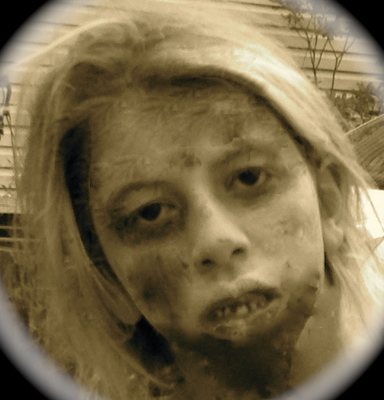 FROM THE JOURNAL OF DANNY LEE - Entry #1

I used to play a game with my best friend, Billy Tomlinson. It was kind of a 'what-would-you-do-if' sort of thing, you know? Like, what would you do if your parents caught you smoking weed? Or, what would you do if you saw a UFO land in your back yard?

Playing that game helped us pass the time because life used to be boring here in Guilford. We're out in the middle of Massachusetts, and nothing fun ever happens in the middle. The most exciting thing Billy and I used to do was crawl over the fence at the old State School and dare each other to break a window or step inside one of the buildings.

The State School used to be an insane asylum. They closed it a long time ago after the people who ran the funny farm got caught doing things to the crazies, like making them crap in their own jammies or forgetting to feed them.

Up until last Friday night, the State School used to be the scariest thing around these parts—but it's not scary anymore. Now, it just seems like a safe place to be.

I'm going to be heading there soon, once I get up the balls to leave the house. I'm going to have to go sooner rather than later because I'm running out of food. My parents were never good at keeping the fridge stocked with anything other than beer. They're gone now with everyone else­­—them, Billy Tomlinson, my parents' foster brat, Holly, who only came to live with us a couple weeks ago—everyone. I'd like to think they're safe some place, but that would be lying, and the worst lies of all are the ones we tell ourselves. Lies like 'everything is going to be okay', or 'it's all just a bad dream and you're going to wake up soon'.

I won't tell myself lies like that. I have to be strong. It's the only way I'm going to make it out of here alive. The rest of them didn't. You know how I know?

I saw my parents and Holly and Billy just last night. They were staggering past the house with a few others. Most of them were so covered in crud that I didn't recognize them, but I did see Constance Thiebold who worked at the QuikMart. She's' that midget with the lisp. Billy and I used to go in there for giggles and ask if we could buy Skoal just to hear her say, "Kids can't buy Thkoal, Danny Lee. Go bother thomeone elth."

What I wouldn't do to hear her lisp again? I never will, though, because she's dead. They're all dead. I just can't figure out why they're still moving. I can't figure it out at all.


FROM THE JOURNAL OF DANNY LEE - Entry #2

I want to leave the house but I can't because I'm scared out of my mind. Who wouldn't be? After all, there are zombies outside—real, live (okay dead) but sort of live, zombies. This whole thing rates the top story on Yahoo, but I don't know if there's anyone left to write one.

It's just a guess, but I'm thinking everyone's dead.

Dead and moving.

Dead and hungry.

I'm starting to really hate Constance Thiebold. She keeps looking at the house like she knows I'm inside. Meat on the hoof—I think that's all I am to her now—meat on the hoof. I only hope that when I do get the courage to run out the front door, booking it down Apple Street toward the State School, none of those freaks will follow me.

I don't think they can run, anyway, but if they can, I don't want my legacy to be "Eaten by a midget zombie". That would be so uncool, even though I know there's no one left to care.

That's not entirely true, Not everyone is gone. I've been hearing a helicopter the past day or so. It's up there somewhere, but I can't tell where because I'm too much of a wussy to go outside and look into the sky. I thought about trying to climb up to the roof, but knowing my luck, I'll slip, fall, break my back or something, and turn into a zombie buffet quicker than you can say 'Bob's your uncle'.

My father used to say that all the time. If he were still here, he'd say, "You can't go up on the roof, Danny-boy. You'll slip, fall, break your back on the way down, and 'Bob's your uncle', you'll be a zombie buffet."

Dad's not here though. He's outside with the rest of them.

I'm just scared that if I get up the nads to move my feet, I'm not going to make it very far, and 'Bob's your uncle', Dad's going to eat me with Mom, Holly, Constance Thiebold and all the rest.

Right now, I really wish there was a guy named Bob, and he was my uncle. He'd come and save me from this nightmare and we'd both have a good laugh—but I know that's not going to happen.

Damn.

I wish my legs would just move.

FROM THE JOURNAL OF DANNY LEE - ENTRY #3

I'm wearing three pairs of jeans. I have on five t-shirts, a hoody, and my ski jacket—the one the makes me look like the Stay-Puff Marshmallow Man from that old Ghostbusters
movie.

I've forced my feet into four pairs of socks and I think I'm wearing six pairs of underwear. Unfortunately, they're tighty-whities instead of boxers, so they're chaffing just a bit.

I'm also wearing a ski hat and my Red Sox Baseball cap, the one with two small socks stitched into the rim.

In my back-pack are what's left of a box of graham crackers, some dried Ramen noodles (just in case I get totally desperate), two six-packs of raisins, and a box of gluten-free Rice Crispies. The new foster kid, Holly, had that disease where you can't eat gluten, whatever that's supposed to be, so Mom bought the cereal for her.

I also have the last of the canned vegetables. I can't imagine I'm going to be desperate enough to break open a can of beets. I don't even know what the hell my mom was doing with a can of beets in the house, anyway. I'm not even sure how you eat a beet, but I'm guessing if I'm hungry enough, taste is the first thing I'm going to give up.

I really don't want to give up taste. If I do that, smell, touch, hearing and sight are soon to follow, and that means I'm going to be one of them.

I don't want to be one of them.

In my backpack are also the last of the batteries, a flashlight, my journal, and a pack of Bic pens. I know I'm missing loads of things, but I can't wait any longer. I have to get out of this place. Besides, all the zombies aren't in front of the house anymore. A helicopter flew by, really close to the ground, and hovered over them for a long time.

Constance Thiebold reached up to grab it. Good try, shorty. It ain't happening.

Now, the zombies are all congregated down the street in front of the tattoo parlor. I'm not proud of the fact that I live on a street with a tattoo parlor, but I'm also not proud of the fact that my dad would have rather brought home a six-pack of beer than a pizza or maybe a bucket of chicken. I'm also not proud of the fact that my parents lived pay-check to pay-check, even if that pay-check came straight from the government and was supposed to be for whatever Holly needed.

Pay checks don't mean anything anymore. Neither do tattoos, or foster kids, or six-packs of beer. The only thing that means something is the State School and what I'm going to find once I get there.

Speaking of which, it's time to go. All I have to do is shoulder my backpack, open the door, and run.

Just run.

Run.